Technology Used For Hydroformed Bellows Manufacturing In India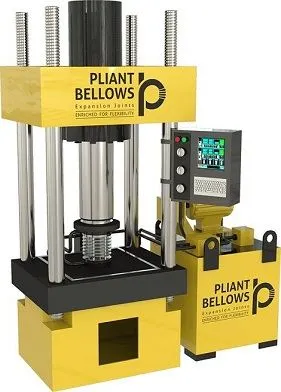 Manufacturing Process for
Hydroformed Bellows
The hydroforming machine is designed by US Designers and has been manufactured to international quality standards.
Hydroformed Bellows by hydroforming process are uniform in structure with adequate dimensional accuracy.
In a single step, corrugations are formed on an entire metal bellow, which increases the productivity considerably.
The properties achieved by the hydroforming process are far superior as compared to mechanically drawn bellows.
Metal bellows can be manufactured with a single ply or multiple plies with excellent flexibility, pressure tightness, and little wall thickness
reduction.
Technical Specification:
Diameter Range mm 15 - 600
Ply Thickness mm 0.2- 4
Tube Length mm up to 1000
Internal Pressure mm up to 340
Total Power HP 25
Forming Time Sec <60
MECHANICAL EXPANDER
Metal bellows with diameters ranging from 90 mm to 1500 mm (New Machine is in development for bellows up to 6000 mm) can be processed on our Mechanical punch forming machine (also known as Mechanical Expander) which is also designed by US Designers.
Single corrugation on the bellow is being formed mechanically.
It's a two-step forming process, the first step is to form the tube into convoluted shape and the second step is the re-rolling process.
The convolutions are punched individually thus eliminating thinning of bellow material.
Metal bellows can be manufactured with a single ply or multiple plies. Internal and external diameters can be aligned as per customer's requirement.
Technical Specification:
Diameter Range mm 90 - 1500
Ply Thickness mm <3 (Single Ply), 5 Plies (1mm/ply)
Tube Length mm <1500
Total Power HP 7.5
Forming Time sec <60
/convolution
TESTING CAN BE CARRIED OUT LIKE:
Radiography test.
Fatigue test
Helium leak detection testing.
Pressure leak test
SALIENT FEATURES:
Company uses EJMA based software along with our professional designers for bellow designing.
Traceability of each bellow is maintained throughout the procurement to dispatch process.
The organization is ISO 9001:2008 certified.
High level of employee training.
Using the latest technology available in computerized bellows design analysis to EJMA guidelines, as well as a full complement of PLC controlled bellows forming equipment; we can provide design, drafting and fabrication of finished expansion joints of unlimited complexity.
We Are pliant Bellows Hydroformed Bellows Manufacturer In India.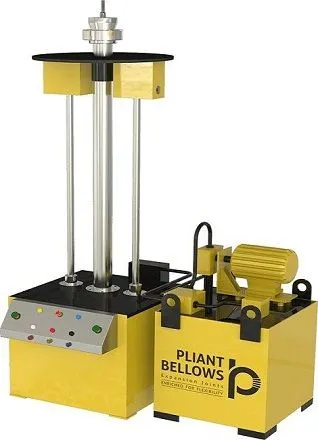 Address
Phone:

Phone:

Phone:

Address: Final plot no.38/1 Ramtekdi Industrial Estate, Hadapsar, Pune - 411013, Maharashtra, India

E-mail: